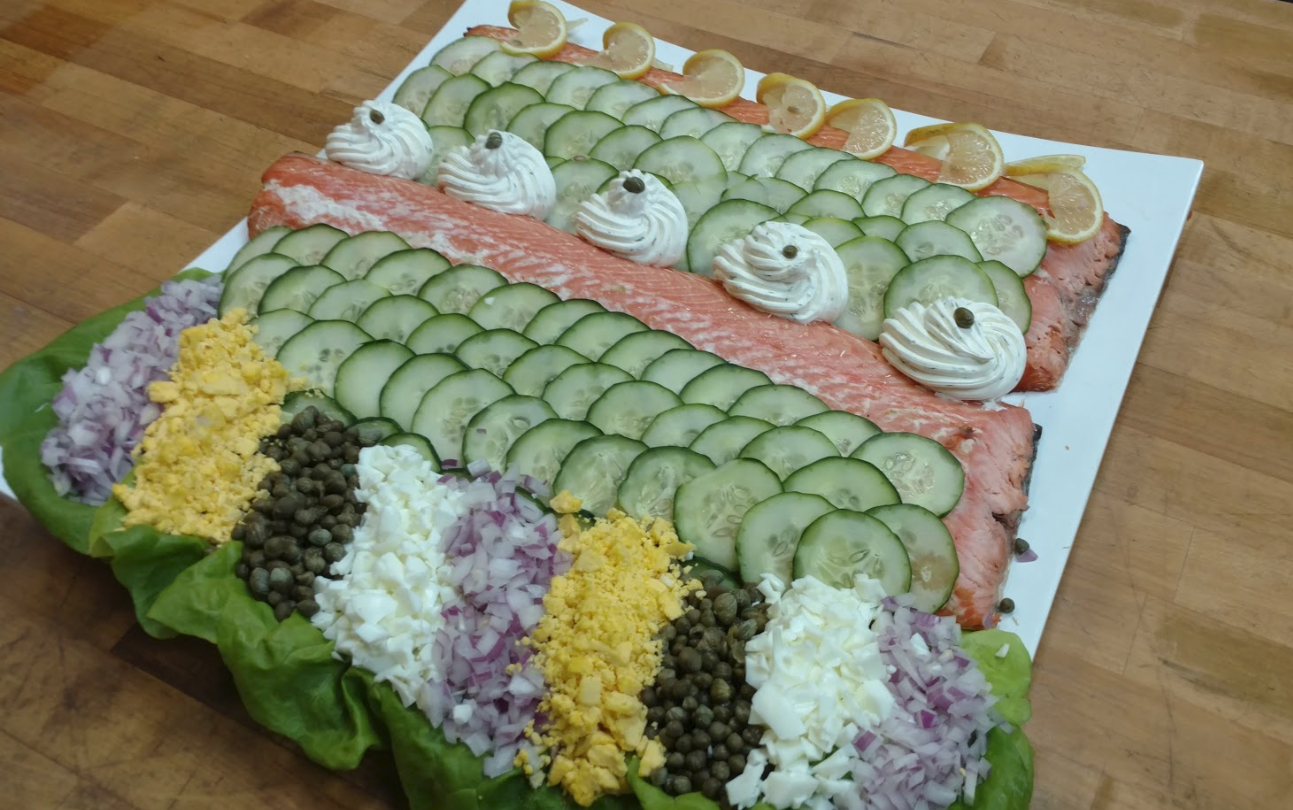 Full Service Menus
The following menus are only sample packages and can be customized to meet your needs. All packages include service ware as indicated and are priced for buffet service. Upgrades in serviceware are avialable upon request Plated Service is avialable upon request for an additional charge. There is a $500 minumum for our full service packages and a $1000 minimum for most full service events on Saturdays. Hors'doeuvres and bar service can also be added to any package for an addtional charge.
Silver Service add $7.99 to any package
If you are interested in finer service ware, then choose our Silver Service option. This service includes a china dinner plate, stainless flatware and a beverage glass. In addition this option includes more service personnel.
Hors D'oeuvres
Whether you're having a cocktail party or need passed appetizers at your reception, we offer a large and unique selection of hand assembled miniatures, tapas, fresh salsas, dips & carved meats.Most are priced per person but some are only available in 50 person platters.
$

69.99
Assorted Chips and House made Salsas (50 person)
$

89.50 /

$

50 person
Baked Brie with Crushed Walnuts and Clover Honey Wrapped in Puff Pastry and Served with Table Water Crackers
$

89.99 /

$

50 person
Country Ham Dip with Homemade Cheddar Wafers
$

169.99 /

$

50 person
Crab Dip w/ Crostinis
$

169.99 /

$

50 person
Fruit, Vegetable, and Cheese Display with Ranch
$

89.99 /

$

50 person
Hot Artichoke Dip with Crostinis
$

149.99 /

$

50 person
Hot Smoked Salmon Platter with Capers, Whipped Cream Cheese, Red Onions, Black Olives and Fresh Dill with Table Water Crackers
$

89.50 /

$

50 person
Roasted Red Pepper Hummus w/ Pita Chips
$

119.99 /

$

50 person
Smoke Salmon Spread w/ Dill & Walnuts on Crostinis
$

89.99 /

$

50 person
Warm Con Queso Dip with Tortilla Chips
$

2.99 / person
Artisan Cheese Platter
$

2.49 / person
Assorted Rustic Tea Sandwiches to include: Chicken Salad, Pimento Cheese, Smoked Salmon Salad
$

2.49 / person
Grilled Marinated Beef Satays with Whiskey Sauce
$

5.49 / person
Blackened Beef Tenderloin with Horseradish Cream, Tarragon Mustard, and Sliced Artisan Bread
$

1.99 / person
Grilled Marinated Chicken Satays with Peanut Sauce
$

2.49 / person
Baby Back Riblets with Whiskey BBQ Sauce
$

2.29 / person
Grilled Pork Tenderloin with Juniper Sauce and Sliced Bread
$

2.79 / person
Grilled Wings: Choice of Buffalo, Whiskey, Orange - Chipotle, Asian Chili Lime - served w/ Homemade Blue Cheese Dip
$

2.49 / person
Local Bruschetta
$

2.29 / person
Cranberry-Orange Muffins with Smoked Turkey
$

4.29 / person
Gulf Shrimp w/ Cocktail Sauce
$

5.29 / person
Mini Crabcake Sliders w/ Cajun Tarter Sauce
$

2.99 / person
Pork Barbecue Sliders w/ Cole Slaw
$

2.49 / person
Turner Country Ham Biscuits
$

2.99 / person
Layered Chocolate Swirl Cheesecake Shooters
$

2.99 / person
Layered Key Lime Cheesecake Shooters
$

2.99 / person
Layered Raspberry Cheesecake Shooters
$

1.49 / person
Lemon Bars
$

2.49 / person
Puffed Pastries w/ Chocolate Mousse
$

1.79 / person
Assorted Bars to include Homemade Fudgy Brownies,Chocolate Chip Blondies, Peanut Butter M&M Bars
$

4.99
Some food
A description